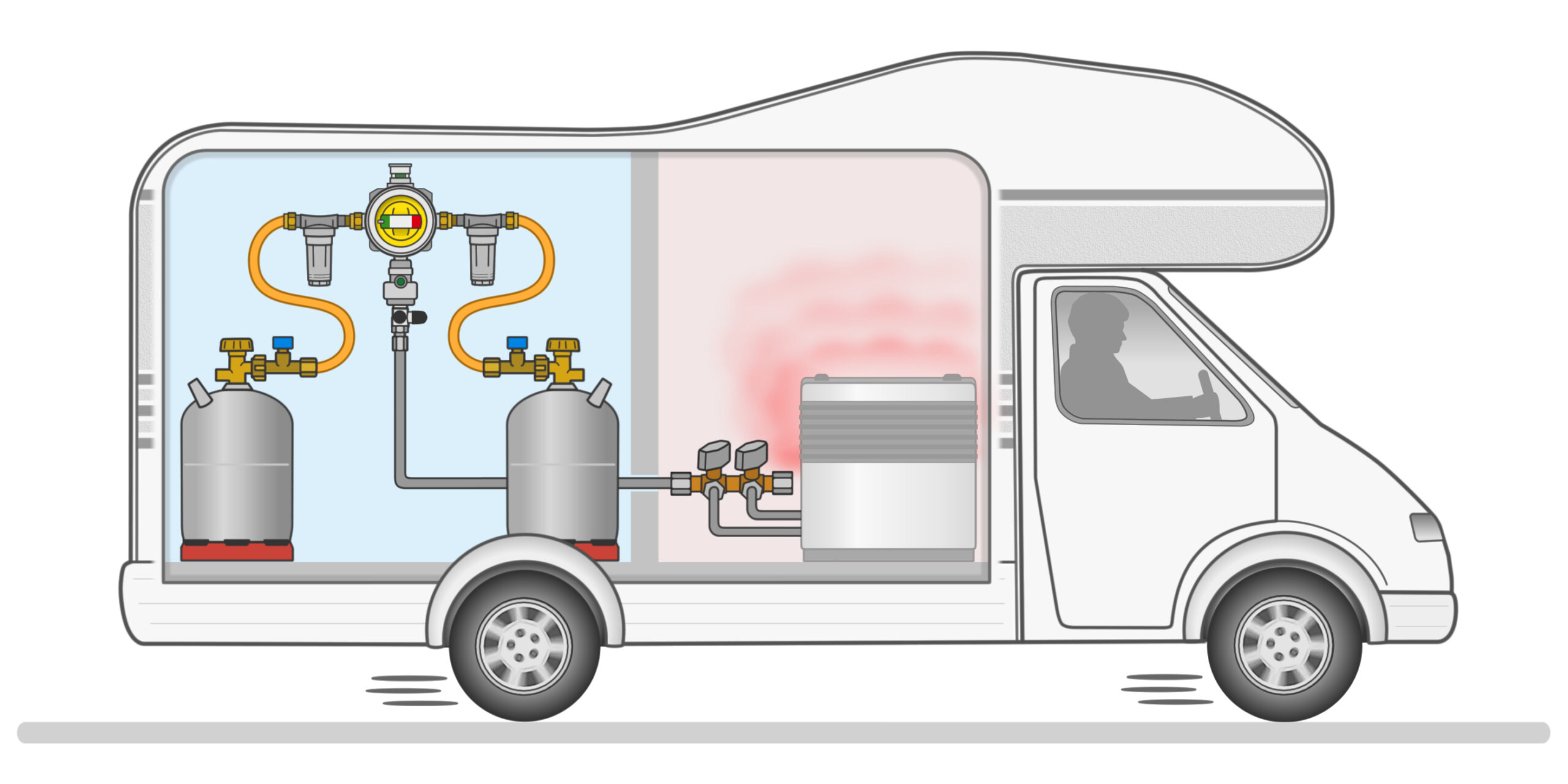 2 Gas cylinder system – Caramatic DriveTwo
Safety gas pressure control system with automatic change-over valve for operating two-cylinder systems in caravans and motor caravans while driving, for connection to gas cylinders by means of high-pressure hose line, for pressure control to the nominal pressure of the gas appliance.
Consisting of:
automatic switching valve
Low pressure regulator with safety relief valve PRV
mechanical crash sensor, control knob
Operating and reserve indicator
Gas anti-recession device
Testing equipment
Wall Mount
Heating while driving by means of an integrated mechanical crash sensor, which shuts off the gas passage in the event of an accident with a deceleration of 3.5 g ± 0.5 g directly acting on the release element; this corresponds to an impact speed of approx. 15 to 20 km/h on a solid obstacle with an average vehicle weight
automatic switchover to the gas cylinder on the reserve side as soon as the gas cylinder on the operating side is empty
bottles can be changed without interrupting operation
Gas non-return valve: prevents the gas flow from rupturing during bottle change
Uniform gas supply through optimum utilisation of the gas cylinder contents
Display indicating from which gas cylinder the gas is taken
Europe-wide use through the use of country-specific high-pressure hose lines – Caramatic ConnectDrive (not included)
Test device for leak testing of the liquid gas system without dismantling the pressure regulating device
suitable for the connection of an Eis-Ex
Version with outlet connection RVS 10 / 8 is equipped as standard with a transition piece for connection to 8 mm pipes
Maximum permissible pressure: PS 16 bar
EC type examination according to GAR
We look forward to hearing from you
Do you have any questions or suggestions?
Please contact us. We will be happy to help you.