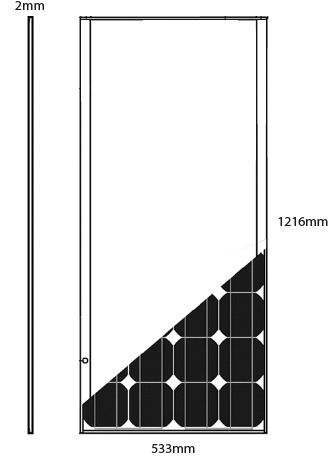 The solar module combines the highest quality and a particularly low weight of just 1.8 kg.
The solar system generates 110 watts of power with dimensions of 1216 x 533 x 2 mm. At the same time, the camping solar system is extremely space-saving and approx. 9 kilograms lighter than conventional solar modules.
Another advantage of the TSPF module is the flexibility of the photovoltaic element and its thickness of just 2 mm. This allows the module to be mounted in places on the roof that would not have been possible in the past.
The Teleco TSPF solar element is made of the finest silicone, namely monocrystalline silicone. This makes the module even more efficient, compact and durable than polycrystalline models.
Because the material was originally developed for use on the high seas, the modules are resistant to water, wind and salt. The new technology can also combine a number of advantages in other weather extremes. In the case of rapid temperature changes, changing solar radiation or high outside temperatures, the TSPF impresses with its best effectiveness and high performance.
Thanks to the extremely stretchable material, the modules can also withstand bumps and vibrations. They are therefore particularly suitable for use on recreational vehicles. It is also possible to step on the modules.
The semi-flexible solar module adapts perfectly to the shape of the vehicle. This gives one more flexibility when it comes to the best place to mount the solar system. This can be especially helpful when it comes to roof racks, air conditioners or other camping equipment.
Specifications
TSPF 110W
Rated power (Pmax):
110 W
Rated voltage Pmax (Vmp):
19,0V
Rated voltage Pmax (Imp):
5,79A
Open Circuit Voltage (Voc):
23,5V
Short circuit current (Isc):
5,97A
Module efficiency (m):
16,9%
Maximum system voltage:
600VDC (IEC).
Application class:
Class A
Maximum overcurrent:
10 A
Operating temperature:
85% Rh -40°C ~ +85°C
Nominal temperaturecell operation (NOCT):
46 ± 2°C
Temperature coefficient at Pmax (Pmp):
-0.1%/°C
Temperature coefficient at VOC (Voc):
-0.31%/°C
Temperature coefficient at ISC (Isc):
+0.045%/°C
Upper cover:
ETFE (flexible, scratch-resistant, walkable)
Monocrystalline cells (pcs and sizes):
36
125x125mm
Frame:
–
Junction box (degree of protection):
IP68
Cable (length / section):
500 mm/4 mm2, negative (-)
500 mm/4 mm2, positive (+)
Connector (degree of protection):
IP65
Module dimensions (LxWxH) (without feet):
1216x533x2 mm
Peso(senza piedi):
1,8 kg