Highest quality "Made in Germany"
As an authorised GOK distributor, we sell the entire GOK product range for the liquid gas sector.
From proven regulator technology and mounting material to custom-made special designs.
We provide you with the entire GOK product range, fast, uncomplicated and from one source.
Simply enter the official GOK article number into the search field of our shop at shop.hybridsupply.de and you will be directly taken to the desired GOK product.

The DREHMEISTER brand stands for the highest level of quality and precision. Thanks to the awareness of quality and innovation, a unique level of quality has been introduced to the market.
Convenient and uncomplicated refuelling throughout Europe with the DREHMEISTER adapter set.
4 Adapters with a W21.8x1/14LH Thread in a DREHMEISTER Case
Take advantage of the DREHMEISTER adapter set at favourable conditions. Exclusively available for business customers in our shop.
New in our Product Range!

DREHMEISTER Gas Filter
Protect your gas regulators and consumer devices from contamination and aerosols.
Protect your gas regulators and consumer devices from contamination and aerosols.
Inlet
W21.8 x 1/14LH
Outlet
G. 12 (KLF)
Gas Type
LPG (propane / butane)
Operating pressure
up to 30.4 bar
Exchangeable filter cartridge made of high-quality borosilicate micro glass fibre
your partner around the topic of liquid gas since 2006. We always have the right solution for your mobile gas supply, no matter if camper, caravan or boat.
Up to 100 Days Return Policy
Quick Guarantee and Returns Processing
Same Day Shipping Guaranteed for all Orders until 14:00
Worldwide Shipping at low-cost Prices
Are you Wholesaler or Reseller?
Ask about our specialised services:
Individual Conditions
Drop-Shipping Service Free of Charge
Trade Partner Program
We look forward to hearing from you
Do you have any questions or suggestions?
Please contact us. We will be happy to help you.
CAMPKO Refillable Gas Cylinders
ECE 67 R homologation, no 10 year test period by the TÜV
Filling and extraction via separate connections
Additional fixing points at the base of the cylinder
Removable cylinder collar
Ideal for fixed mounting in mobilehome or caravan
Available with multivalve or 4-hole valve
Gross Filling Weight
30.00 litres
Net Filling Weight (80%)
24.00 litres
Tare Weight
14.00 kg
Height
585 mm
Height (without collar)
530 mm
Diameter
300 mm
80% Overfill Stop Protection Valve
Included
Safety Valve
27 bar Pressure relief valve
Inlet
1/2 "
Outlet
G.12 (KLF)
W21,8 x 1/14 LH
Level Indicator
Available
Remote Indicator
Retrofitting Possible
Inspection Interval
None, no usage restriction
Vapour cylindrical tanks can be used flexibly. They can be mounted inside the vehicle/gas box and under the vehicle. Thanks to their ECE 67 R homologation, the 10 year test period is not required.
We offer a wide range of different cylindrical tanks in diameters from 200 to 400 mm and lengths from 548 to 1298 mm. This allows capacities between 16 – 121 litres.
You may choose between the traditional 4-hole version or the new economical multivalve technology.
All vapour cylindrical tanks feature a particularly robust corrosion and scratch-resistant coating.
Refillable Composite Gas Cylinders
The light and safe alternative
The compound known as composite meets all the required standards used in the automotive industry for natural gas tanks (CNG).
Composite Gas Cylinder with Multivalve
80% Filling stop safety valve
Filling and extraction via separate connections
Level indicator on the valve
2-cylinder solution possible
Composite Gas Cylinder with OPD Valve
80% Filling stop safety valve
Ideal as a portable cylinder for use in the professional
or leisure sector
Filling and extraction is done via the same connection (regulator must be unscrewed before filling)
Now also available in 12.7 and 18.2 litres.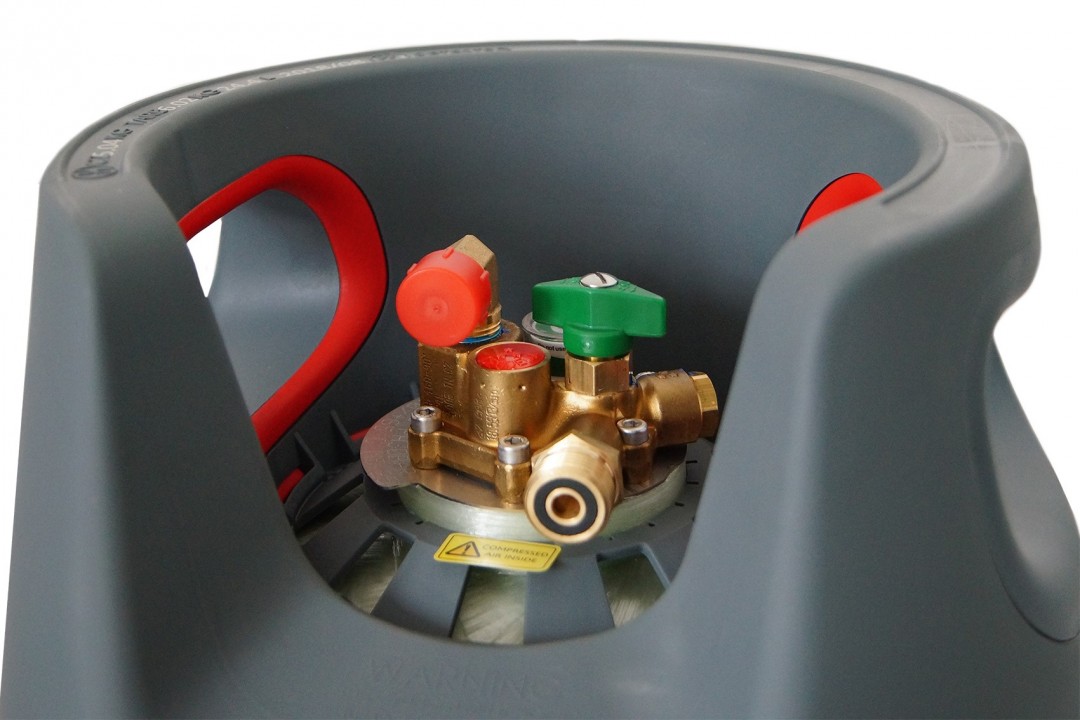 Each delivered composite gas cylinder is filled with compressed air and tested for leaks before shipping. Before filling the cylinder with LPG for the first time, the compressed air must be released.
Composite 24.50 L Multivalve
Composite 24.50 L 80% OPD Valve
Gross Filling Weight
24.50 litres
24.50 litres
Net Filling Weight (80%)
19.52 litres
19.52 litres
Tare Weight
6.52 kg
5.70 kg
Height
583 mm
583 mm
Height (without collar)
Collar not removeable
Collar not removeable
Diameter
310 mm
310 mm
80% Overfill protection valve
Included
Included
Safety valve
27 bar Pressure relief valve
27 bar Pressure relief valve
Inlet
1/2 "
G.5 and G.12
Outlet
G.12 (KLF)
W21,8 x 1/14 LH
G.12 (KLF)
W21,8 x 1/14 LH
Level indicator
available
not available
Remote indicator
Retrofitting possible
not possible
Inspection interval
10 year inspection interval
10 year inspection interval