Thanks to ATEX certification, the new GOK Senso4s PLUS level indicator for gas cylinders, which has been available since November 2020, can now also be used in Zone 2 hazardous areas and, for example, in the gas cylinder box of the motor home or caravan while driving.
The hardware measures the total weight and sends the values via Bluetooth to the app on the end device. The app (available for Android and iOS) shows the current fill level, a consumption curve and a forecast of how long the gas in the bottle will last.
The Senso4s PLUS thus makes it possible to measure 5, 8 or 11 kilograms or gas cylinders with a diameter between 18 and 32 centimetres at the bottom.
In response to the great stresses when physical forces act during travel, GOK has significantly increased the stability of the stand feet.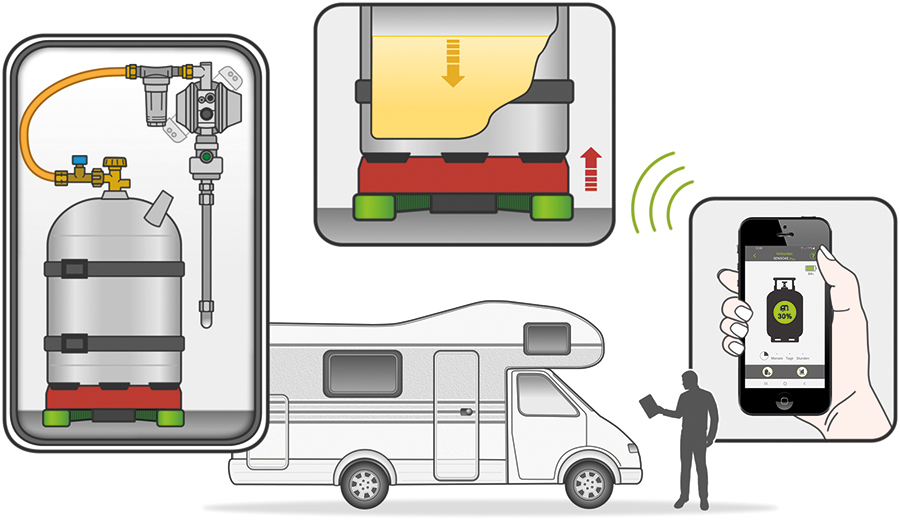 To ensure that campers get the most accurate level possible, three different sensors are integrated to block incorrect measurements.
As the gas in the bottle or the tank also moves while driving the camper, no meaningful measurement is possible. Therefore, a motion sensor is integrated in the Senso4s, which suspends the measurement. The user receives a corresponding message in the app.
If the camping vehicle is parked on an incline, e.g. on a steep slope, the physical forces acting on the gas cylinder change. Since this would falsify the measurement results, the measurement is also interrupted in this case and the user is notified of this in the app.
High and low temperatures also influence the measurement result. This is also detected by the sensor and reported via the app.
All integrated sensors have in common that they release the measurements again as soon as the condition – movement, inclination, too high or too low temperature – is in the "normal range".
Download the app
Pair Senso4s PLUS with your mobile device via Bluetooth
Calibrate the scale without gas bottle
Enter tare weight and filling weight into the app
Adjust Senso4s PLUS to the size of the gas bottle
Place the gas bottle on Senso4s PLUS and start monitoring
All steps are clearly explained in the start-up video.