The Landi Renzo OMEGAS DIRECT system represents a new evolution of the conventional sequential LPG system: It was developed for the conversion of direct injection engines to LPG, an increasingly popular fuel.
The Landi Renzo LPG system reduces pollutant emissions, contributes to improving air quality and guarantees compliance with ever stricter environmental standards.
State-of-the-art technology allows the Omegas Direct System to guarantee high performance while protecting the engine for years to come. The latest generation injection rail is safe as it ensures accurate fuel metering to optimize combustion.
The OMEGAS DIRECT LPG system interacts with the gasoline system and provides OBDII connectivity via K and CAN protocols for advanced gas system diagnostics.
OMEGAS DIRECT is available in several different versions to adapt to vehicles with different displacement, including turbocharged engines.
Features of a direct injection vehicle
The direct injection engines differ from the others because their fuel system allows the fuel to be injected directly into the combustion chamber. This leads to a higher efficiency of the engine.
To identify direct injection engines manufacturers have embeded abbreviations into the names of the engines. These could look as follows: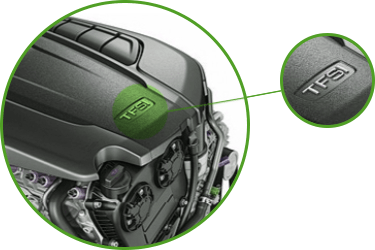 EVO L
DGM (Italy) 59598 LPG Injection systems Euro 5 – 6 for power (kW / cylinder) from 9 kW to 45 kW
DGM (Italy) 59526 LPG turbo engines systems Euro 3 – 4 for power (kW / cylinder) from 1040cc to 2480cc
DGM (Italy) 59626 LPG aspirated systems Euro 3 – 4 for power (kW / cylinder) from 1200 cc to 1990 cc (only GI25 injectors)
Minikit
Pressure regulator
ECU
Square switch
MAP sensor
Wiring harness
Gas filter
Water temperature sensor
Frontkit
Pressure regulator
ECU
Square switch
MAP sensor
Wiring harness
Gas filter
Hoses & pipes
T connectors
Clamps
Water sensor
Brackets
Unfortunately there are no components available at the moment.
Maintenance
Gas filter replacement (low pressure circuit) and controls (every 20,000 km)
Gas injectors overhaul (every 60,000 km)
Pressure regulator maintenance service (every 80,000 km)
Downloads
In our download area, you will find everything you need and want to know about natural gas and liquefied petroleum gas, categorized by brand name. Click on the desired manufacturer and receive the data sheets, regulatory approvals, the latest software versions, and product information at your free disposal. If you cannot find what you are looking for, we will be happy to find the necessary data or information for you.
We look forward to hearing from you
Do you have any questions or suggestions?
Please contact us. We will be happy to help you.